Growing a Connected Network Around Families
Sauk Valley STARS
Early Childhood Education Coalition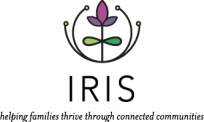 CONTACT:
Lois Meisenheimer
IRIS Project LEAD
Early Childhood Program Coordinator
(815) 625-1495 ext. 118
lmeisenheimer@roe47.org
Diana Merdian
Data & Systems Manager
Family Education and Support Services Nexus Coordinator
(815) 625-1495 ext. 151
dmerdian@roe47.org
Aimee Howard
Coordinated Intake Specialist
ahoward@roe47.org

Our Story
The Sauk Valley STARS Early Childhood Education Coalition and their home visiting partners, Parents as Teachers First Years, are pleased to announce that they are partnering with the Governor's Office of Early Childhood Development and the University of Kansas Center for Public Partnerships & Research to bring Integrated Referral and Intake System (IRIS) to Lee, Ogle and Whiteside Counties.
Although this project initially focused on early childhood providers, in order to support all families, the IRIS network has expanded to include any community agency who serves families in the Lee, Ogle and Whiteside County service area.
Our Vision
Everyone benefits from a healthy, thriving, well-connected community that values all of its citizens. A centralized and coordinated referral system like IRIS can help eliminate many of the barriers that prevent families from engaging with services that are available to them, and well-connected organizations can benefit from the increased ease of identifying clients who are interested and eligible for their services.
This project was made possible by grant number 90TP0057. Its contents are solely the responsibility of the authors and do not necessarily represent the official view of the United States Department of Health and Human Services, Administration for Children and Families.